Protected Innocence Challenge (2017)
The 2017 Protected Innocence Challenge Report Cards, released November 15, demonstrate a 7-year trend in improved state laws that combat child sex trafficking, yet also call attention to the fact that a number of states have not progressed. When launched in 2011, 26 states had an "F" grade on 41 points of law that impact child sex trafficking. This year there are now 36 As and Bs. Learn more about the successes and the gaps that remain with the materials below. Please email susanna@sharedhope.org if you wish to schedule an interview with Shared Hope staff.
Protected Innocence Challenge Home Page
State by State Press Releases for the Protected Innocence Challenge (2017)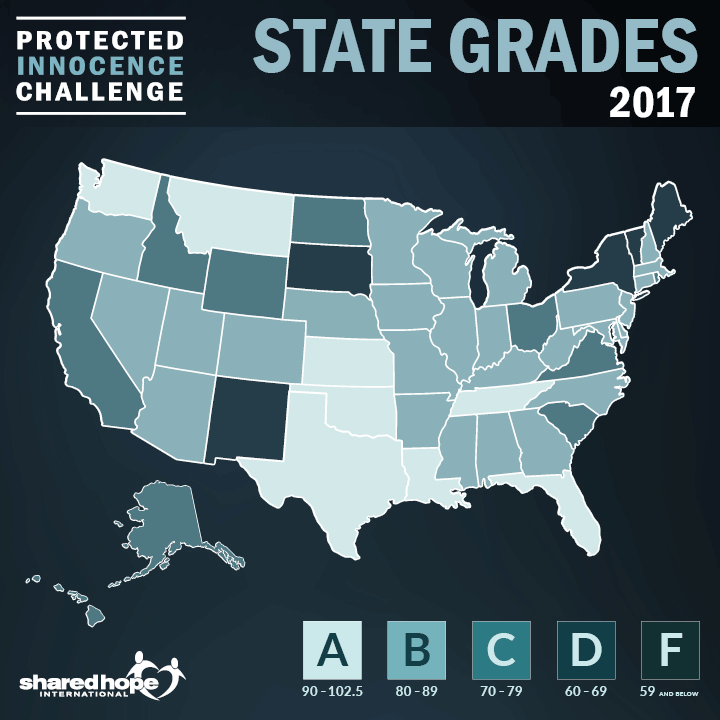 Susanna Bean
Communications Manager
susanna@sharedhope.org
703-351-8062
T: @sharedhope
F: /sharedhopeinternational
Sign Up for Press Updates
Opinion Editorials
by Linda Smith
Shared Hope International
Leading a worldwide effort to eradicate sex trafficking
Our Mission
Shared Hope International strives to prevent the conditions that foster sex trafficking, restore victims of sex slavery, and bring justice to vulnerable women and children. We envision a world passionately opposed to sex trafficking and a community committed to restoring survivors to lives of purpose, value and choice – one life at a time.
Our Vision
Our vision is to coordinate a national U.S. network of protection to improve the response to victims of trafficking. We believe we can create a world where every survivor is surrounded by trained professionals, an alert community, just law and policy, knowledgeable service providers and appropriate shelter options.
Our Founder
Linda Smith, formerly Washington state legislator (1983-93) and U.S. Congresswoman (1995-99), is the founder and president of Shared Hope International, whose mission is to eradicate sex trafficking.

Linda Smith is a leader in the global movement to end sex trafficking. In 1998, while serving in the U.S. Congress, Linda traveled to a notorious brothel district in India where the hopeless faces of women and children forced into prostitution compelled Linda to found Shared Hope International. Linda is the primary author of From Congress to the Brothel and Renting Lacy and co-author of The National Report on Domestic Minor Sex Trafficking and the DEMAND. Report. Linda has testified before Congress, presented at national and international forums, and has been published in news outlets and journals. Linda served as a Washington State legislator (1983-93), before she was elected to the U.S. Congress in 1994.