Technology, including social media and classified websites is a continually changing landscape, and are widely viewed as being responsible for the explosion of sex trafficking in the United States. Our own research backs this up.
To make matters worse, predators are luring child victims through online communications — via tablet, phone, even video game consoles. And there, our children are being sold for sex. So how do we protect them?
We must invade the darkness of the online world where the predators are communicating with our kids. With the strong support of caring friends like you, Shared Hope is doing just that.
-Linda Smith
Our Response
Shared Hope is developing comprehensive tools for parents, teachers, and all those working with youth to protect children from the traps predators lay with a plan to get these tools into as many adult hands as possible.
They will raise awareness of grooming tactics, equip adults with knowledge of technology dangers, and provide tangible "how-to" safety tips. These tools include: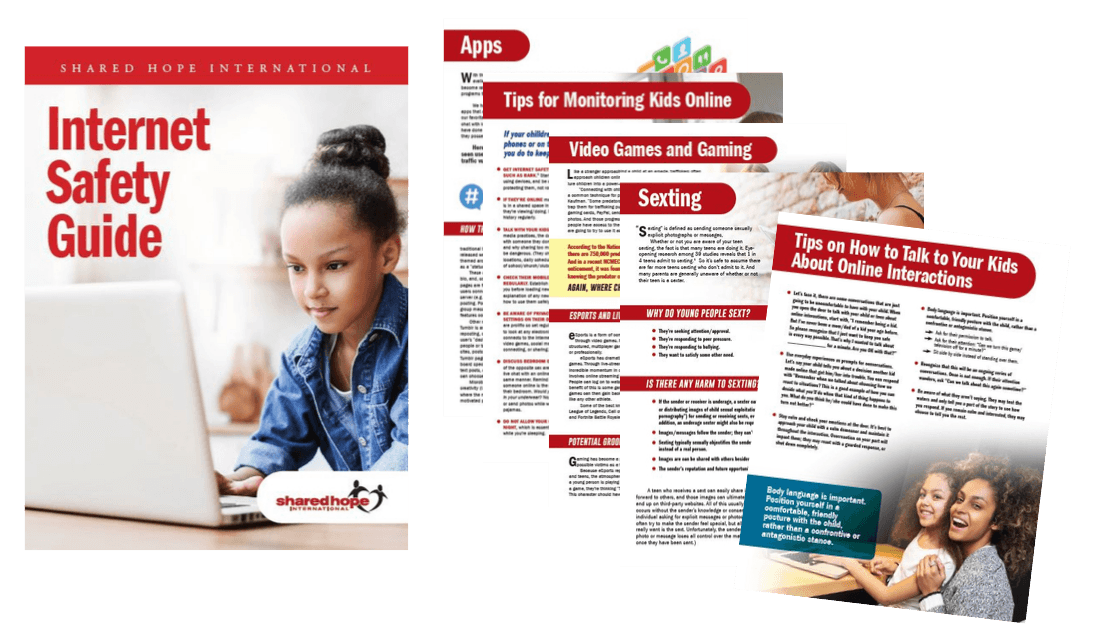 With our years of research and our experience in the field, we developed a comprehensive Internet Safety Toolkit – made with you in mind. This critical information will help you keep the children in your life safe from internet-based danger.
This toolkit includes everything you need to know about online predatory grooming, warning signs, and proactive actions with practical tips on special topics like these here:
Sign up to receive the complete toolkit
Shared Hope International cares deeply about you and the children in your life and aim to help you protect them in this ever-changing digital age.  Download your copy right now to use and share with those you love.
The Internet Safety Video Series
Additional Downloadable Resources
How to Keep Your Kids Safe From Online Sex Traffickers – This mini-guide includes critical information and practical "how-to" safety tips for parents.
Download a digital copy
for you and those you love now.
Hard-copy bundles of 25 are available
in the Shared Hope store, great for small groups or classrooms.
Additional Video Resources
Internet Safety Amidst the COVID-19 Outbreak
Internet Safety with Bark !
Ultimately, adults are empowered, children are protected, and we stop
child sex trafficking before it ever happens.
-Kelly
Internet Safety Presentation Request
Through over 1000 Ambassadors of Hope spread across the United States, Shared Hope is eager to share these age-appropriate lessons of Internet Safety with Adults, Youth, and Children via churches, schools, and civic organizations.  Connect with our team today and schedule.