SEX TRAFFICKING TRAINING
Online Learning | LIVE Webinars | Recorded Webinars | In-Person Training |
Training Materials
Shared Hope International's sex trafficking training is designed to increase identification of those vulnerable to and exploited by trafficking, and improves the response of child-serving professionals.
Our multi-modal training brings together the best methods of in-person and virtual education to equip professionals and advocates in the field.
We are dedicated to advancing systems of care, empowering survivors of sex trafficking, and pursuing new or advanced methods to disrupt trafficking.
The Shared Hope International Training Center  provides extensive training tools for those in the fight against sex trafficking. Delivering collaboration, advocacy, resources, and learning on juvenile sex trafficking, our tools are designed for professionals, advocates and the general public, the Shared Hope International Training Center will equip you to respond to the crisis of juvenile sex trafficking.
LIVE Upcoming Webinars
Join us for our regular schedule of FREE, live webinars. To register, click on the image below to add the webinar to your cart. Once added, you can complete your registration in the SHI store. Our LIVE Webinar schedule is updated each month so check back regularly for updates!
Foster Care Children and Youth and the Risk of Commercial Sexual Exploitation
"The intersection of sex trafficking victimization and foster care involvement has been widely recognized. We know from anecdotal accounts, survivor voice, and the limited data available that youth survivors of sex trafficking are disproportionately more likely to have experienced at least one foster care placement prior to their trafficking victimization." In honor of Foster Care Month, we invite you to join Shared Hope and guest panelists in a discussion about the current state of our foster care system and the vulnerabilities youth face that put them at risk of commercial sexual exploitation.
Previously Recorded Webinars & Training Videos
In addition to our Live Webinar Series, Shared Hope has webinar recordings available. Visit our new dedicated webinar website .  All webinar recordings are free!
In 2020, Shared Hope hit "pause" on our regular JuST Conference content to bring you a special series from the Shared Hope Institute for Justice and Advocacy – JuST LIVE! State Action. National Change. webinar series.
The series of free webinars introduced 6 key issue areas that form the advanced legislative framework for the Reports Cards on Child & Youth Sex Trafficking, which the Institute for Justice & Advocacy released in November 2020. The JuST LIVE! State Action. National Change. webinar series tracked these issue areas with two presentations keyed to critical aspects of advancing protections for child victims under each issue area.
Juvenile Sex Trafficking Conference
This unforgettable and inspiring conference features today's most pressing issues in the anti-trafficking field. Presentations and workshops focus on skill-building, survivor experiences, cross-discipline collaboration, task force development, case studies and lessons learned. Join experts and professionals from across the nation to learn practical ways you, and your agency, can create sustainable changes and leverage your resources to tackle sex trafficking from all angles.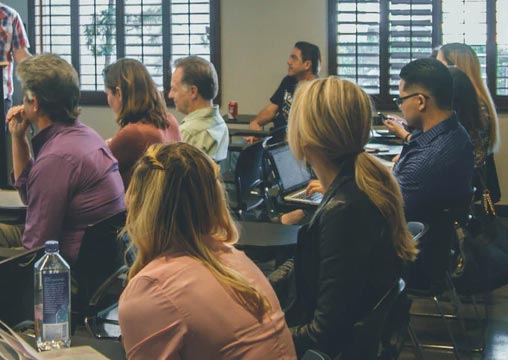 Training Manuals + Videos
Shared Hope's published training resources provide comprehensive education on the issue of domestic minor sex trafficking and suggested practices to improve agency response. The two training guides, developed as training toolkits, equip the user to build a training for any team or agency, complete with pre and post training tests, group discussion points, group exercises, and case studies.
The two provider guides, developed for professionals who interact daily with potential victims, offer the user critical support through in depth instruction and simple screening tools to implement with suspected trafficking victims. Each resource comes with a video training series, addressing the same topics through interviews with experts and survivors across the United States. Additional details and customer reviews are available in the Shared Hope Store.