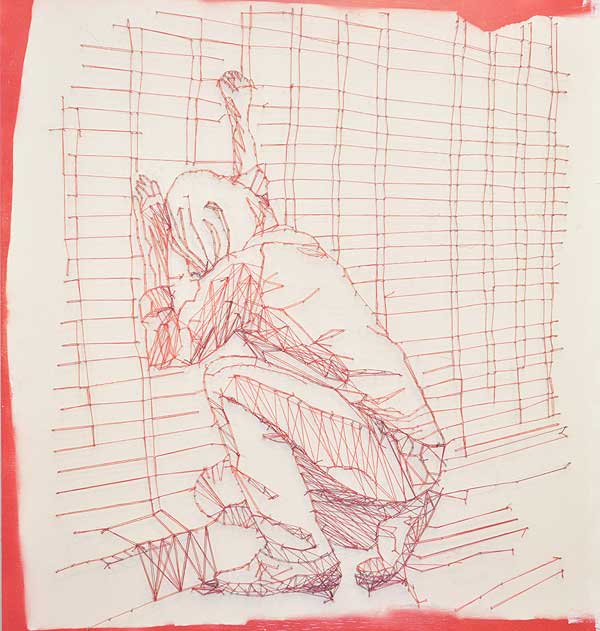 Working with Shared Hope International, artist Pamela Alderman created an ArtPrize exhibit to bring greater awareness to the problem of sex trafficking. Using audio files from Chosen (one of Shared Hope's documentary video resources), Pamela was able to add real voices from survivors and law enforcement to the exhibit.
"The Scarlet Cord reveals the deception that enslaves innocent children. As visitors step inside a 40-foot storage container filled with thirty doors, they enter a secret world. This dark world crosses religious and social economic borders to sell our children for sex. A twisting scarlet cord depicts the trauma bond that connects the children to their traffickers. The weathered doors represent these abused children whose youthful minds have become knotted. My art—dedicated to these suffering children tethered within the sex industry—calls for compassionate action."
Set against the backdrop of "The Scarlet Cord" ArtPrize installation, the collaborative music video featured below from artist Pamela Alderman and singer Kelsey Rottiers aims to confront the harsh reality of child sex trafficking and to call for compassionate action.
Midnight Wars & The Scarlet Cord from Pamela Alderman on Vimeo.
[one-half-first]
Some important facts the exhibit aims to confront:
There are 100,000 teens trafficked in the USA between the ages of nine and nineteen (FBI)
The average age at which a child is first exploited through prostitution is 12 to 14 (FBI)
Cybersex sells children as young as six weeks old for sex to customers in the USA (Women at Risk International)
Children are sold by their families for drug money and rent in West Michigan (Manasseh Project)
ArtPrize is the world's largest open art competition and this year's 19-day event expects to draw over 400,000 visitors. ArtPrize runs September 24 – October 12 at the Gerald R. Ford Presidential Museum in Grand Rapids, Michigan.
Learn more about Pamela on Facebook, Twitter and on her website.
[/one-half-first][one-half]
ArtPrize 2014 THE SCARLET CORD http://t.co/ordfPMl3ym @WomenAtRiskIntl #TheScarletCord #ArtPrize2014 #SexTrafficking pic.twitter.com/uLCbzequCU

— Pamela Alderman (@Pamela_Alderman) September 13, 2014
[/one-half]